Our next website
advertisement
These are some of the fonts available at Instagram Fonts Generator
𝔗𝔢𝔰𝔱 𝔉𝔬𝔫𝔱𝔰 | 𝕿𝖊𝖘𝖙 𝕱𝖔𝖓𝖙𝖘 | 𝓣𝓮𝓼𝓽 𝓕𝓸𝓷𝓽𝓼 | 𝒯𝑒𝓈𝓉 𝐹𝑜𝓃𝓉𝓈 | 𝕋𝕖𝕤𝕥 𝔽𝕠𝕟𝕥𝕤 | 𝚃𝚎𝚜𝚝 𝙵𝚘𝚗𝚝𝚜 | ᵀᵉˢᵗ ᶠᵒⁿᵗˢ | Ⓣⓔⓢⓣ Ⓕⓞⓝⓣⓢ | Test Fonts | T҉e҉s҉t҉ ҉F҉o҉n҉t҉s҉ | T̷e̷s̷t̷ ̷F̷o̷n̷t̷s̷
You can also discover more beautiful fonts and also fonts with emojis are available, what are you waiting for come on make your bio more beautiful with the professional Instagram fonts generator
advertisement
Instagram Fonts Generator Tool
text on your Instagram profile bio, captions, and comments can all be customized. The Advanced Instagram Fonts Generator tool makes it simple to add unique text font styles to your Instagram posts, so you can stand out from the crowd. Just type or paste your text into the first text field that appears, and scroll down to see your words reproduced in a range of awesome font styles. Looking for some cool fonts to use for your Instagram posts? Check out our list of Insta font styles for 2022! Simply copy and paste the one you like into your bio, caption, or remark. If you don't see anything you like, scroll down to the bottom and click the 'load more fonts' button for more options. Looking for a way to make your Instagram profile stand out from the rest? Check out Instafonts, a tool that can generate unique font ideas for your profile bio. Simply type in any text and Instafonts will generate hundreds of variations of that text in different fonts. You can also use Cool Fancy Text Generator to create fonts for Twitter, Facebook, and Instagram. All you need to do is copy the text and paste it into the Instagram app. You can find free Instagram story fonts, copy and paste symbols, elegant text fonts, tattoo font generators, cursive font generators online, and font styles to download for free.
advertisement
Instagram Fonts Generator ― By Farhad
Powered by developer Ahmed
What are Instagram fonts?

Instagram fonts provide a way to make your text stand out on
Instagram
. With over 100 different custom font styles available, you can create unique looks for your profile without having to download any extra fonts on your phone or computer. To use an Instagram font, simply copy and paste the text you want to use into the text box. This will display all the Instagram bio fonts that you can use. Make sure you use plenty of white space in your posts, so your followers can easily read them.
Instafonts.ml
is an advanced fonts changing tool that can be used to make your Instagram bio stand out. You can use it to create a unique username, or a cute little meme. The fonts work by taking the letters you type and using them as a base font. From there, they are placed in the fonts that the generator gives you. This is a convenient way to get unique font styles that you can use in your Instagram bio. By trying different fonts, you can give your bio a unique look that will make it stand out from the rest.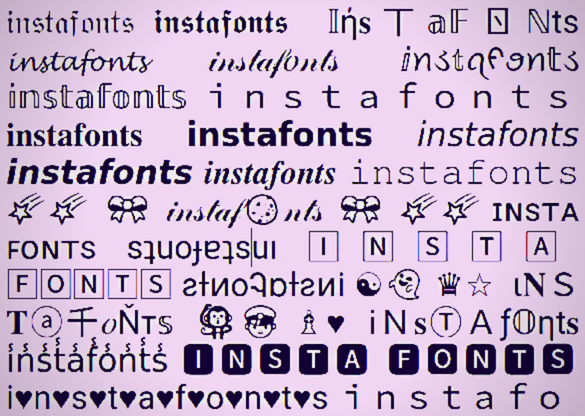 Looking to add some personality to your Instagram profile? Why not try out some cool text fonts! With a few clicks, you can easily copy and paste them into your bio section.
How it Works ?
InstaFonts allows you to convert plain text into text symbols that mimick the letters of the alphabet. It provides a number of symbol sets to choose from, which are detailed in the section below.
Using text symbols is a great way to show things that can't be described with words. You can use all sorts of symbols, most of which can be easily copied and pasted into your Instagram profile, posts, and stories. You can add text symbols to your papers or simply send a symbol along with your text to loved ones and friends using a few different methods.
You could be forgiven for thinking that this Instagram Fonts Generator tool converts text into a variety of fonts, but that isn't the case. So, how does it work?
How to use and benefit from Instagram fonts?
If you're looking to make your Instagram profile stand out, you can use custom fonts. You can find fonts on a website like this, which can be useful if you have a long bio. To use the generator, simply type in the text you want to appear in your bio. For example, you could type "trying to live the good life." Then, click the "generate fonts" button. This will create a unique font that you can copy and paste into your bio.
Text Fonts or Text Symbols?
The first 128 symbols of Unicode are
ASCII
characters, which you are reading right now. However, Unicode contains considerably more than 128 symbols, including several that resemble the Latin alphabet. (i.e. that look like English text).
This can be used to create "pseudo-alphabets or
Abugida
" that look similar to regular ASCII text but have some differences, such as being stronger, italic, or even upside down! These "alphabets" aren't always perfect - they're essentially "Unicode hacks" that use symbols from various sets across the standard's 100k+ symbols.
The term "font" refers to the collection of visual features that represent some or all of
the Unicode
characters.Fonts like "Comic Sans" and "Arial" are probably familiar to you. The symbols you're copying and pasting above are found in any font. Therefore, the cursive text and other decorative letters you see above are separate characters, just as "a" and "b" are separate characters.
Copy and Paste Instagram Fonts:
Why does it matter that they're two different characters? If they weren't, you wouldn't be able to copy and paste them (i.e. if they were just regular fonts). The symbols you're copying are just regular ASCII characters, and just because they're rendered in one font on one website doesn't mean they'll appear in the same font on another - the website owner chooses which fonts to use.
We can "emulate" a font by implementing Unicode characters that look like a certain font or have certain styles (for example, bold, italic, cursive, etc.) when copied and pasted across different websites. Using these fonts on Instagram is as simple as copying and pasting!
Compatability
Instagram does not work with some fonts. In some cases Instagram filters out the fancy letters and symbols - probably because Instagram does not want people to abuse certain Unicode stuff like the excessive diacriticals used in the
"Zalgo text"
font, but in the majority of cases you can copy and paste these fonts into your Instagram Bio or your Instagram Stories.
advertisement